Shrieking Frogs Unnerve Hawaiian Island Residents
{
I bet
that
caught your eye
!}
Jan 18 2005

HONOLULU - A tiny frog with a huge shriek has invaded the Big Island and won't shut up. Big Island Mayor Harry Kim is looking for $2 million to begin controlling the spread of the nocturnal coqui frog, a beloved native in Puerto Rico but considered an annoying pest in Hawaii since hitching a ride over in shipments of tropical plants around 1990.
The frogs have been mating easily - and shattering quiet island nights - ever since. Aside from the noise, the frogs have a voracious appetite for spiders and insects, competing with native birds and fauna. And coqui frogs are adaptable to many ecosystems and breed heavily in Hawaii, experts said.
* * *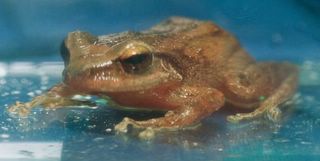 The coqui, smaller than his scientific name,
Eleutherodactylus, is menancing
the people of Honolulu

More than 150 communities on the Big Island are now infested with the coin-sized frogs, named after their high-decibel "ko-KEE, ko-KEE" chirp.
Story from
REDNOVA NEWS
© Rednova 2004