Former President Ronald Reagan Dies At 93
Ronald Reagan, the cheerful crusader who devoted his presidency to winning the Cold War, trying to scale back government and making people believe it was 'morning again in America,' died Saturday after a long twilight struggle with Alzheimer's disease, a family friend said. He was 93.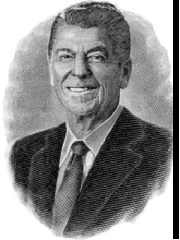 Government is not the solution, it's the problem

Five years after leaving office he had been diagnosed with the early stages of Alzheimer's, and said he had begun 'the journey that will lead me into the sunset of my life.'
His funeral was expected to be at the National Cathedral, an event likely to draw world leaders. The body was to be returned to California for a sunset burial at his library.
Although fiercely protective of Reagan's privacy, the former first lady let people know his mental condition had deteriorated terribly. Last month, she said: "Ronnie's long journey has finally taken him to a distant place where I can no longer reach him."
'Til they meet again

Over two terms, from 1981 to 1989, Reagan reshaped the Republican Party in his conservative image and fixed his eye on the demise of the Soviet Union and Eastern European communism.
Mr. Gorbachev, tear down that wall!

At the time of his retirement, his very name suggested a populist brand of conservative politics that still inspires the Republican Party.
He challenged the status quo on welfare and other programs that had put government on a growth spurt ever since Franklin D. Roosevelt's New Deal strengthened the federal presence in the lives of average Americans.
In foreign affairs, he built the arsenals of war while seeking and achieving arms control agreements with the Soviet Union.
He left office in 1989 with the highest popularity rating of any retiring president in the history of modern-day public opinion polls.
He had an uncommon ability as a communicator and his way of connecting with ordinary Americans, even as his policies infuriated the left and as his simple verities made him the butt of jokes. "Morning again in America" became his re-election campaign mantra in 1984, but typified his appeal to patriotrism through both terms.
Near-tragedy struck on his 70th day as president. On March 30, 1981, Reagan was leaving a Washington hotel after addressing labor leaders when a young drifter, John Hinckley, fired six shots at him. A bullet lodged an inch from Reagan's heart, but he recovered.
John Hinckley fails to bring him down

Four years later he was re-elected by an even greater margin, carrying 49 of the 50 states in defeating Democrat Walter F. Mondale, Carter's vice president.
"It's morning in America again"
1984 - Reagan wins again!"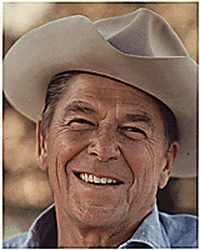 Requiescat in Pace