Music Legend Ray Charles Dies
Ray Charles, the Grammy-winning crooner who blended gospel and blues in such crowd-pleasers as "What'd I Say" and heartfelt ballads like "Georgia on My Mind," died Thursday, a spokesman said. Charles, 73, died at his Beverly Hills home surrounded by family and friends, said spokesman Jerry Digney.
Charles' last public appearance was alongside Clint Eastwood on April 30, when the city of Los Angeles designated the singer's studios, built 40 years ago in central Los Angeles, as a historic landmark.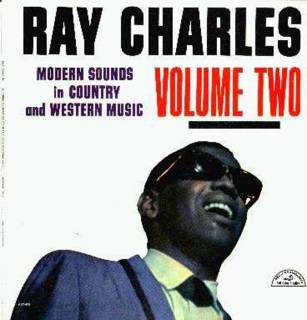 Singing in the Heavenly Choir

From The
Free Dictionary
.com
Born in Albany, Georgia, Charles was blinded at age six as a result of glaucoma, and attended school at the St. Augustine School for the Deaf and the Blind as a charity case. When his parents died, Charles was a teenager and began working as a musician in Florida, eventually moving to Seattle, Washington
He soon started recording, achieving his first hit song with "Baby, Let Me hold Your Hand" (1951)
Though his first recordings were only skilful imitations of his hero, Charles Brown (9/13/22 - 1/21/99), Charles's sound become more and more original and groundbreaking as he took the feel, and many tunes, from gospel music Gospel music combines Christian religious lyrics with melody and rhythm that developed in tandem with early blues and jazz. Modern gospel artists have also incorporated elements from soul music, which originally arose as a secular form of gospel. Gospel music first grew popular with African Americans and white southerners but has since become popular around the world.
His first hit in this mode was "Mess Around," which was based on the 1929 classic "Pinetop's Boogie Woogie" by Pinetop Smith.
He had another hit with the raplike urban jive of "It Should Have Been Me", but went into high gear with the gospel drive of "I Got A Woman" (1955)
This was followed by "This Little Girl of Mine", "Drown in My Own Tears", "Hallelujah I Love Her So," and "Lonely Avenue", half of them gospel songs converted with secular lyrics, the others blues ballads.
After an appearance at the Newport Jazz Festival he achieved mainstream success with "(The Night Time is) The Right Time" and his signature song, "What'd I Say". The essence of this phase of his career can be heard on his live album Ray Charles In Person, recorded before a mostly African American audience in Atlanta in 1958. This album also features the first public performance of "What'd I Say". It broke out as a hit in Atlanta from the tape, months before it was recorded in the studio in a two-part version with better fidelity.
Charles had already begun to go beyond the limits of his blues-gospel synthesis while still at Atlantic, which now called him The Genius. He recorded with large orchestras and with jazz artists like Milt Jackson Milton (Milt) Jackson (1923 - 1999) was an American jazz vibraphonist and one of the most important figures in jazz.
He was discovered by Dizzy Gillespie, who hired him for his sextet in 1946. He quickly acquired experience working with the most important figures in jazz of the era, including John Coltrane, Woody Herman, Howard McGhee, Thelonious Monk, and Charlie Parker. In the Gillespie big band one of his jobs was to play in a quartet with John Lewis, Percy Heath, and Kenny Clarke while the horn section took a break from the demanding high-register horn parts. This group became the Modern Jazz Quartet, which had a long independent career.
Ray moved on to ABC Records ABC-Paramount Records, commonly known as ABC Records, formed in New York City in 1955. It continued to operate, distributing a wide variety of music under many subsidiary labels until it was purchased by Music Corporation of America (MCA) in 1979. In addition, to producing records directly, ABC licensed finished masters from independent producers and purchased regionally released records for national distribution.
At ABC, Charles had a great deal of control over his music, and broadened his approach, not on experimental side projects, but with out and out pop music, resulting in such hits as "Unchain My Heart" and "Hit the Road, Jack", in 1962
Charles surprised his new, broad audience with his landmark album Modern Sounds in Country and Western Music. This was followed by a series of hits, including "You Are My Sunshine", "Crying Time", "Busted" and "Take These Chains From My Heart" (1965)
Charles was arrested for possession of heroin and was jailed for one year. After gaining his freedom, Charles defiantly released Ashford and Simpson's "Lets Go Get Stoned" (1966).
Since the 1960s, Charles's releases have been hit-or-miss, with some massive hits and critically acclaimed work, and some music that has been dismissed as unoriginal and staid. He concentrated largely on live performances, although his version of "Georgia on My Mind", a Hoagy Carmichael and Stuart Gorrell song originally written for a girl named Georgia, was a hit and soon was proclaimed the state song of Georgia, with Charles performing it on the floor of the state legislature in 1979. He also had success with his unique version of "America the Beautiful". Ray's version of "America the Beautiful" is used to 'say goodnight' on more TV stations than the National Anthem.
A notorious ladies' man, Charles has been married twice and has fathered 9 children. In a 60 Minutes profile, he admitted to Ed Bradley that he would "audition" his female back-up signers.
He reclaimed his wide fame in the 1990s as a spokesman for Diet Pepsi, resulting in some criticism by fans who saw this as selling out, but also boosting his career with younger audiences.
He is an original inductee into the Rock and Roll Hall of Fame and is a member of the Blues Foundation Hall of Fame, the Blues Hall of Fame, the Songwriters' Hall of Fame, the Grammy Hall of Fame, the Jazz Hall of Fame, the Georgia Music Hall of Fame, the Florida Artists Hall of Fame, and the Playboy Hall of Fame.
A biopic, Unchain My Heart is due for release in 2004.
Who can forget the "Huxtables" hamming it up with their 'lipsynch' of The Night Time? or Joe Cocker's Drown in My Own Tears from Mad Dogs and Englishman? Who has been to a wedding in the last 40 years, and not heard What I'd Say? with that oh - so - familiar rolling piano intro? Who hasn't sung along in their car to Hit The Road, Jack at the top of their lungs? Who wasn't stirred, and proud, to hear America the Beautiful, sung Ray's way, on 9/11/01? and, Who having seen Ray Charles, the first Afro American to enter the Georgia State Legislature since Reconstruction, play Georgia on My Mind, the day it was declared the Peach State's State Song, wasn't moved to tears?
Damn, We'll miss you, Ray