The
City University of New York
has assembled tons of information about D-Day, entitled
Government Views of D-Day 1944
Information included:
Air Operations
Allied Commanders
Art & D-Day Photographs
The Beaches Medal of Honor Preparations
Canada Mulberry Harbors President Roosevelt
The Coast Guard Museums Prime Minister Churchill
General Eisenhower Naval Operations Quartermasters
German View of D-Day Newspapers & Radio Tanks
History Operation Bodyguard War Graves & Cemeteries
Lesson Plans
Meaning of the Term D-Day
Maps
Oral/Personal Histories
Participants
On June 6, 2004 America Remembers D - Day, when Western Allies landed in northern France, opening the long-awaited 'Second Front' against Adolf Hitler's Germany. ... Commanded by U.S. Army General Dwight D. Eisenhower, the Normandy assault phase, code-named "Neptune" (the entire operation was "Overlord"), was launched when weather reports predicted satisfactory conditions on 6 June.
Thank you, CUNY, for a fitting tribute to America's finest hour.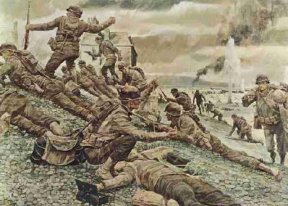 Omaha beach
, 0700 hours, 6 Jun 44