From the Hartford Courant
Naming Of The Dead
It will take another 11 years to finish this quest to bring a measure of dignity to those buried in
Connecticut Valley Hospital
's cemetery, to put a face on 1,670 faceless dead from decades past, 100 names at a time.
As they have each May since 1999, the
Rev. John C. Hall
and nine other Middletown clergy members gathered Wednesday for a memorial service at the old cemetery off a gravel road on the grounds of CVH, the state's first and only remaining public psychiatric hospital.
On this day, the names of the dead in graves 500-599 - the markers bear only a number that corresponds with a death registry - were read one by one, each followed by a blessing. The clergy moved from marker to marker, their progress matched by a couple of dozen onlookers.
Bob Byrnie stooped and placed a white rose at each marker. His grandfather, a carriage painter named James Byrnie who suffered from lead-poisoning dementia, is buried here.
Although his grandfather died in 1906, it was not until 1997 that James Byrnie's fate was learned.
"To put a face on those buried here - it's just a wonderful concept. I look forward to coming each year," Byrnie said.
Unused since 1955, this is the place of the unclaimed dead, the indigent who died while at CVH. The oldest markers date to 1878.
Wednesday, each name was read in the same steady, somber cadence.
"Grave 500, Annie Sincolitch, died Sept. 4, 1910, at the age of 31," intoned the Rev. Greg Perry, chaplain at CVH. "Annie belongs to you, oh God, for you are the alpha and the omega, the beginning and the end."
"Your mercy endures forever," came the response from the onlookers.
At this rate, notes Hall, it will be 2015 before the task is done.
Until the mid-1950s, the dead at CVH and at many of the state hospitals across the country were buried under small, numbered markers. The stigma of mental illness was that great.
But the names surfaced: In the late 1990s, Wesleyan graduate student Ben Holder found a list of the dead at Russell Library.
Three granite directories bearing the names, corresponding numbers and date of death stand at the edge of the cemetery. It will be three more years before all the names are etched into the granite. Money to fund the engravings comes from the patient-run Valley View Cafe at CVH.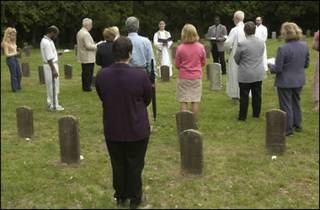 John Hall [center], senior minister of the First Church of Christ, Congregational, Middletown, was among those who read the names of the former patients in graves 500 to 599 at the Connecticut Valley Hospital.
Rick Hartford
2015 until they find eternal rest ... And that's just one hospital
.