This morning's posts are from Joel Comm's
Internet Tourbus
This is Joel Comm's
weblog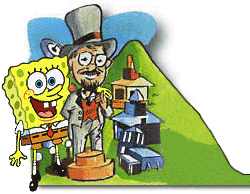 Abundant Finoculousity

Looking for family-friendly web sites?
FamilyFirst
has reviewed
hundreds of sites over the years, featuring a new site each and every day.
How Much Is Inside?
Betcha didn''t know that there were 2,049.5 inches of noodle, more than 170 feet, in a bag of Ramen.
Useless Information
Yesss!
From our
Astronomy Domine Department
:
The
Astronomy Picture of the Day
features a high quality image with a description of its significance, written by a professional astronomer in clear, easy to understand terms.
The
Hawaiian Astronomical Society
has created a apectacular
astronomical Web site called
Views of the Solar System
. The site
tells you evereything you could ever want to know about most of the astronomical objects in our solar system, gives information about the history of astronomy and space travel, and offers stunning pictures and movies from around the Solar System.
The
Nine Planets
is an overview of the history, mythology and current scientific knowledge of each of the planets and moons in our solar system. Each page has text and images, some have sounds and movies, and links to related information.